Parma Art Scene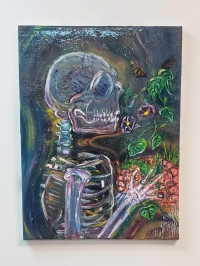 Prama Artspace & Gallery, 5411 Pearl Rd, is having their Annual Spooktacular Show. They sure do love the spooky stuff at Prama. If you love dark, mysterious and spooky, you'll love this show. Opening night was Friday, October 28, 2022. Patrons came dressed in costumes, refreshments were served. and listened to the sounds of Sept Le Charme perform their latest Draculian dirges at 8 PM. Sept le Charme just released a new album of their dark poetry as lyrics titled, And on the 7th Day, the Goth God Created Sept le Charme. This exhibit will be available for you to peruse through November 20th.
Coming soon to Prama Artspace & Gallery - book signing. "Bobby's Shivery Shadows Book" by Thomas Tobie. Follow Prama on Facebook and Instagram for details on this exciting event.
Menlo Park Children's Art Show sponsored by Cleveland Photo Fest is coming to Prama, November 25th through December 18th.
While visiting Prama, stop at the many unique food and beverage establishments located on Ridge and Pearl Roads. Shop small, shop local and often. You won't be sorry you did.
Lynne Shayko, a member of Parma Area Fine Arts Council is one of the 50 Pretentious Cleveland Portrait Artists on exhibit at Beachwood Community Center, October 23rd through November 12th. The Pretentious Cleveland Portrait Artists are a group of area portrait artists who meet to draw the portrait of whomever signed up to pose. No money is ever exchanged as the model poses for portraits. They are unique as they prefer to draw in front of the public, all the models come from the public, and the public is always welcome to draw with them.
Greenbrier Art League is a group of artists that meet every Tuesday at the Parma Heights Cassidy Theater, in the social room in the downstairs of the theater. It is free and open to all artists that would like to come and work on their projects from 10 am to 1pm. They do a little assignment each month and have a critic on the last Tuesday. Coffee and friendship is provided. If you are interested stop in and join them.
Sean Mabin owner/operator of Prama Artspace & Gallery has certainly been busy. He is one of several artists/photographers in the 4 Your Love show, October 14 to November 11 at 818 Studio in Tremont. Also in Tremont, his works appear in The Occult Show at Doubting Thomas Gallery, 856 Jefferson Ave., which opened October 20th. He also has two pieces in the Robert Thurmer People's Art Show at Galleries at CSU, 1307 Euclid Ave., which runs to November 26. Additionally, two of his photos were chosen to be a part of the Inteernational Photography Exchange Exhibition between Cleveland Photo Fest and Len's School of Photography in New South Wales (Sydney) Australia..
Kathryn Mabin
Board Secretary of Parma Area Fine Arts Council, Inc, or PAFAC, and Artist/Jewlery Designer, Owner Aire of Oppulence.
Read More on News
Volume 14, Issue 11, Posted 8:51 AM, 11.01.2022