Call For Nominations Opens For $30,000 In Tech Boosts grants From Cox Communications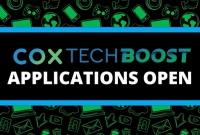 Despite the important work nonprofits and community organizations do in the communities they serve, many are lacking the modern technology tools needed to perform their missions to the fullest. To bridge this technology gap, Cox Communications today announced the call for nominations for its annual "Tech Boosts" program, which awards grants to nonprofit groups committed to investing in technology equipment for the betterment of its patrons and mission. The nomination period closes October 13, 2022.
This marks the sixth year of the Cox Communications Tech Boosts program, and the goal remains the same: to help nonprofits invest in technology equipment and services that enrich the lives of community members while fulfilling their missions to the fullest. Three $10,000 grants will be awarded in the company's northeast region.
This technology grant is awarded to nonprofit organizations that demonstrate how they will positively impact the community in one of the following categories: Environment and Conservation; Health; Early Childhood Education; and Empowering Families and Individuals for Success. Organizations interested in applying should visit the link to apply.

"The Cox Communications Tech Boosts program has become a highly anticipated program designed to drive technology assets into the organizations that need them the most," said Ross Nelson, senior vice president and region manager, Cox Communications. "We know more than ever that community-based and nonprofit organizations are developing programs to ensure our young people can pursue a rewarding career, and technology plays a huge role in driving the best outcomes possible."
For more information on the Tech Boost program, visit: https://www.coxcharitiesne.org/tech-boosts
# # #
About Cox Communications
Cox Communications is committed to creating meaningful moments of human connection through broadband applications and services. The largest private telecom company in America, we proudly serve nearly seven million homes and businesses across 18 states. We're dedicated to empowering others to build a better future and celebrate diverse products, people, suppliers, communities and the characteristics that makes each one unique. Cox Communications is the largest division of Cox Enterprises, a family-owned business founded in 1898 by Governor James M. Cox.
Jeff Lavery
Jeff Lavery is the public relations manager for Cox Communications in the northeast.
Read More on News
Volume 14, Issue 11, Posted 8:51 AM, 11.01.2022