Parma Art Scene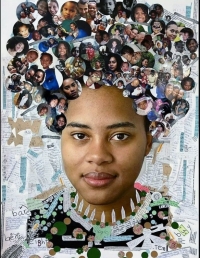 Prama Artspace & Gallery, located at 5411 Pearl Rd , opened an exhibition on September 23, 2022. of work by Gina Washington. titled "Monday's Child". It's an archaeological dig into family identity, identity expectations, and the dualistic nature of Black Identity in America. This project will consist of photographic portraits manipulated through collage techniques, hand weaving, and embedded augmented reality. The images will illustrate the poem "Monday's Child." Each person represents their born day. The hand building/weaving of each picture connects to the physical process of raising children, and the objects will represent the people no longer present. Opening night the cool jazz duo of Alex Henry & Lovest Watson played. "Monday's Child" is supported by the Satellite Fund, which is administered by SPACES and funded by the Andy Warhol Foundation for the Visual Arts Regranting Program. The show runs from September 23rd to October 16th. Regular hours are Sun, Wed, Thur, Sat, 2-6 and by and by appointment.
COMING SOON at Prama, Annual Halloween Bash! Watch Prama's Facebook page for details!
On Saturday, October 8, 2022, from 2 to 4 PM, at the Powers Blvd Library, will be a figure painting lecture with artist Linda Hutchinson. This event is sponsored by Evergreen Artists Corp., a 501(c)3. To find out more information on the artist, visit https://hutchinsonart.blogspot.com.
Craig Lindsley – Artist and Board Member of Parma Area Fine Arts Council appeared at the Comic-Con in Erie PA September 16th through the 18th. He also appeared at NEO in North Olmsted, and GEM City Comic Con in Dayton, with his Caesar Comics. You can follow Caesar Comics on Facebook.
Common Thread Quilting Guild of Parma is presenting their 12th Triennial Quilt Show, titled Creative Journeys on October 21 & 22, 2022 at Elmwood Recreation Center, 62 Wisnieski Parkway in Independence. This judged show features Raffle Quilts, Challenge display, Quilters Emporium, raffle baskets, vendors and more, Friday 10:00 AM to 6:00 PM, Saturday 10:00 AM to 3:00 PM. Admission is $5.00. This organization meets on the third Monday of the month at All Saints Episcopal Church, 8911 Ridgewood Drive.
Sean Mabin, owner operator of Prama Gallery, is one of several artists/photographers in the 4 Your Love show, October 14 to November 11 at 818 Studio in Tremont. He also has two pieces in the Robert Thurmer People's Art Show at Galleries at CSU, 1307 Euclid Ave. This show runs September 30 to November 26. Additionally, two of his photos were chosen to be a part of the International Photography Exchange Exhibition between Cleveland Photo Fest and Len's School of Photography in New South Wales (Sydney) Australia.
CALL FOR PHOTOS - You still have time to enter the One Million Photos Exhibition and be a part of this historic event. The best part is anyone from anywhere in the world, amateur or professional, is encouraged to submit their photos. It's free, so contact your friends and relatives and pass the word. Use your camera, iPad, tablet, Android or iPhone to submit your digital photos. This is your chance to be a part of a historic event and have bragging rights for the rest of your life. For details, more information, or to submit photos go to www.onemillionphotos.org.
Kathryn Mabin
Board Secretary of Parma Area Fine Arts Council, Inc, or PAFAC, and Artist/Jewlery Designer, Owner Aire of Oppulence.
Read More on News
Volume 14, Issue 10, Posted 8:06 AM, 10.01.2022