Wing Night Fundraiser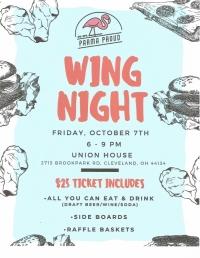 Over the past few years, the volunteers involved with the 501(c)3 non-profit organization We Are Parma Proud have worked tirelessly to advance and support the city's overall image and well-being. Whether it was creating and publishing Parma's first ever Visitor's Guide (available in both electronic and hard-copy formats), hosting family-friendly events like Frosty's Fest and Picnic in the Park, beautifying local streets through our Trash Crawls, engaging the community through online photo initiatives and contests during the fall and winter months, putting together the fireworks display after the Rib 'n Rock, and much more, one thing is certain: We Are Parma Proud is here to stay.
To that end, they plan on hosting their first ever fundraiser to help offset the costs of some of the current initiatives and new ones they hope to add in the future. The Wing Night Fundraiser will take place Friday, October 7th, from 6 p.m. - 9 p.m. at the Union House Bar and Restaurant (2713 Brookpark Rd., Parma, OH 44134). Tickets for the event will be $25 and will include food, beer and wine, and the opportunity to participate in various different raffles (sideboards, 50/50s, gift baskets, etc.).
We Are Parma Proud is currently soliciting for donations that could be used toward gift baskets for the Wing Night event. If you are interested in supporting the cause, you could provide gift cards, merchandise, cash, or create your own gift basket. Volunteers are always welcome also, to assist during special events. And, they hope you'll attend on October 7, 2022.
Hope you will consider collaborating on this endeavour, or others. Follow We Are Parma Proud on Facebook for information on this event, how to purchase event tickets and merchandise. Or contact directly by email for more detailed information at ( parmaproud1@gmail.com ).
Kathryn Mabin
Board Secretary of Parma Area Fine Arts Council, Inc, or PAFAC, and Artist/Jewlery Designer, Owner Aire of Oppulence.
Read More on News
Volume 14, Issue 9, Posted 9:40 AM, 09.01.2022