A Message From The PCSD Superintendent - Build Our Future!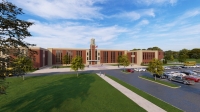 The Parma City School District has partnered with GPD Group, our architectural consultants, to design a unique learning institution that will empower our high school students to learn in a first-class environment with myriad opportunities to "find their niche." The singular district high school will locate on the current property of Parma Senior High School (PSH), which is scheduled to be demolished in Fall 2023. Renderings of the campus show a clear embrace of the historical features of PSH, including the construction of a new clock tower above the main entrance to the school and red brick lining the exterior.
There are many advantages to the construction of a new, lone, high school campus. From an academic perspective, students will have the opportunity to take more College Credit Plus and Advanced Placement courses as these are often limited when trying to maintain fiscal responsibility within a three high school campus model. Further, we will also have within our high school 17 Career and Technical Education (CTE) pathways, formerly known as vocational classes. Locating all of these in the same location allows our students to maximize their schedule by eliminating the travel period they currently have to include if they are participating in a program across town.
In addition to the historical features described above, the rendering also shows wings that extend outward toward the Longwood, or northern, side of the campus. These wings provide grade-specific environments for the ninth and, separately, tenth grade students. These grade-level communities will include dining areas and offices for support staff such as Assistant Principals, counselors, and mental health resources. These grade-level communities will help our students to navigate what could otherwise be an overwhelmingly large facility without their inclusion.
Other advantages to the construction of a new, singular high school include the creation of a cutting-edge security system, complete with fewer doors that allow for public access, shatter-resistant glass, and wings that can be locked down from a central location. Further, the recreation space includes an oversized gymnasium and a pool that we will open for public access throughout the year.
Construction of this proposed high school requires passage of a bond issue on the November ballot that will cost the owner of a $100,000 home $11.53 per month. The Ohio Facilities Construction Commission will contribute $71.9 million in the form of a credit that we will apply to the construction of two middle and four elementary schools.
Charles Smialek
Charles Smialek, Ph.D.
Parma City Schools Superintendent
Read More on News
Volume 14, Issue 9, Posted 9:41 AM, 09.01.2022