Fireworks!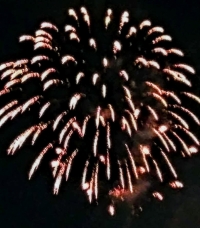 The reorganized and updated non-profit We Are Parma Proud brought you the fireworks on Sunday evening June 12th. The organization solicited local businesses throughout Parma and surrounding communities to raise the funds for this event. Thank you to all the local businesses that participated. You can see them listed on the We Are Parma Proud Facebook page. They hope to make this an annual event.
Since inception, back in late 2018, this all volunteer, non-partisan board has brought to the area family oriented events. Their mission is to build upon the traditions that Proud of Parma once held for many decades back in the 1970s, while simultaneously moving forward and writing a new chapter for our great city, to make this a great place to raise a family.
Early in 2019, a meeting was held, inviting residents, businesses, non-profits and politicians to meet the newly formed organization. At that meeting the board asked, "What would you like us to bring to the city?" From that meeting several ideas were brought forth.
The Parma Visitor's Guide was one. It's now in the process of a second printing. This guide not only lists participating local business, but provides a brief history Discover Parma, Ohio by Daniel P. McCarthy, information about Ukrainian & Polish Village, short stories of interest about Parma, such as the most popular, What's With The Flamingos by Dan Tylicki. It's a great read for new and old residents, as well as visitors to our city.
Frosty's Fest has been a huge success, and follows Parma's Christmas Parade. The first occurred in 2019. They expected a couple hundred people to attend and ended up with thousands. Free admission. Visit with Santa & Mrs. Claus do, free photos, s'mores with Parma Firemen, ice sculptor, lots of give-aways, and more winter holiday fun. On-line Santa Story-Time was also a huge favorite during the pandemic.
Trash crawls to clean up our city is another favorite that occurs in spring, summer, and fall.
Coming soon, on Saturday, August 6th, is Picnic In The Park. It brings family fun in the form of games, prizes, food trucks and entertainment. This event is free to children and adults. Local non-profits are offered free space to set up booths that provide information on their services. This year, local artists and crafters will also be able to participate. For more information on this upcoming event follow We Are Parma Proud on Facebook and Instagram.
This non-profit survives on donations, and the kind volunteers who work to bring these events to you. If you are interested in volunteering for one or all events, email parmaproud1@gmail.com with your name and contact information. We are Parma Proud, are you?
Kathryn Mabin
Board Secretary of Parma Area Fine Arts Council, Inc, or PAFAC, and Artist/Jewlery Designer, Owner Aire of Oppulence.
Read More on News
Volume 14, Issue 7, Posted 6:19 PM, 07.02.2022