Parma Art Scene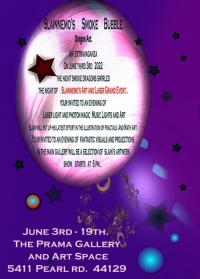 Prama Artspace & Gallery, 5411 Pearl Rd, presents Slain Nemo, June 3rd through 19th. June 3rd gallery show opening reception kicks off with Slains Laser Light and Photon Magic Music Lights and Art Event. Reception begins at 6 PM, with artwork illustration of fractals and math art in the main gallery. Slain Nemos creations use computer generated images, laser burns, and oil paint on canvas. His very precise work shows no visible brush strokes. His artistic creations are sacred geometric forms, surrealistic, Sci-Fi, Shamanistic, and linear. Don't miss this unique, one-of-a-kind experience. Follow Prama Artspace & Gallery on Facebook and Instagram, or visit their web page for details on all upcoming events.
Also at Prama Artspace & Gallery look for the new display of Parma authors and writers titled The Parma Author Station provided by the Flamingo Writers Guild.
Call For Arts Instructors – The Parma Area Fine Arts Council is searching for artists of various mediums interested in teaching classes or workshops. Instructors are paid the going rate. If interested please send an email to kathrynmabin@att.net, with your contact information and the type of class and/or workshop you'd like to teach.
Local Artists Katie Harroff and Donata Rahne will be exhibiting at the Beachwood Library, located at 25501 Shaker Blvd, in July. Opening reception on July 3, 2022 from 1:00 to 5:00 PM. This show runs through July 28th. Both are members of Parma Area Fine Arts Council.
Farm Art Day at Stearns Homestead is brought to you by the Parma Area Historical Society, Saturday, July 9, 2022. Artists of all ages and mediums are invited to set up their easel and create their farm related works of art. Artists should pre-register by sending your name, age (if under age 18), and medium at StearnsHomestead@gmail.com, with subject Farm Art Day. Artists will set up 9:30 – 10:00 AM. Stearns opens to the public at 11:00 AM. Visitors will be able to view artists at work.
1,000,000 PHOTOS The Cleveland Photo Fest is announcing its third annual event to take place in the fall of 2022. They are encouraging EVERYONE to submit their images to this event, the world's largest international photo exhibition. The event opens November of 2022 at Bostwick Design Initiative in downtown Cleveland. It runs through December 31st. Any type of photo is welcome. Send as many as you like. NO submission fee. This invitation is open to photographers from all over the world. The photos will be assembled into multi-image panels for viewing. Their mission is Unity Through Photography and hopes to uplift and unify the human condition through global photographic collaboration and partnership. Visit www.onemillionphotos.org for detailed information or email questions to info@onemillionphotos.org.
Kathryn Mabin
Board Secretary of Parma Area Fine Arts Council, Inc, or PAFAC, and Artist/Jewlery Designer, Owner Aire of Oppulence.
Read More on News
Volume 14, Issue 6, Posted 8:17 AM, 06.02.2022