Memorial Day...The True Meaning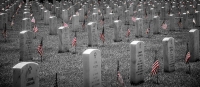 While researching the subject matter for this article, it became clear that somewhere over the years, we clearly have lost the true meaning of Memorial Day. I found many references to Memorial Day as a day of "celebration," greeting cards and images reading "Happy Memorial Day." This is not a day thought of as Celebrating or being a joyful day. It is the unofficial start of summer and families are firing up the grills, filling the picnic baskets, heading to the beach, and gathering for family outings. Which is perfectly acceptable if we never lose sight of what this day really means. If you are planning a family barbecue, do it with joy. and rejoice with loved ones that those we are honoring today have given us the privilege of living in a land of the free. The true meaning of Memorial Day goes much deeper than this. It is a somber day of remembrance for the men and women who have died for our country.
Memorial Day was once known as Decoration Day. It is a federal holiday in the United States for mourning the U.S. Military personnel who have died while serving in the United States Armed Forces. From 1868 to 1970 it was observed on May 30th each year. The World Wars turned it into a generalized day of remembrance, instead of just for the Civil War. In 1971, Congress standardized the holiday as "Memorial Day" and changed its observance to the last Monday in May. Many cities and people have claimed to have first celebrated the event. In 1868, General John A. Logan of the Grand Army of the Republic called for a "Decoration Day", which was widely celebrated. By 1890, every Northern state had adopted it as a holiday.
In the words of Thomas Sherlock, Arlington National Cemetery Historian, "the most important thing parents can tell their children is that we, as Americans, are able to enjoy the freedoms we do because there have been men and women willing to sacrifice their lives so that we can be free. We should all stop and remember this on Memorial Day."
The federal government asks that all Americans take a moment of silence at 3 p.m. on Memorial Day to remember the fallen soldiers who have fought for our country. It is called the National Moment of Remembrance. If you are flying an American flag on Memorial Day, it should be held at half-staff until noon, then at its full height from noon to sunset.
After 2 years of holding a limited scaled down Memorial Service due to the pandemic, this year will be back to the full-scale service with flag raising ceremony, gun salute, playing of taps, and with many city of Parma dignitaries. Parma Mayor Timothy DeGeeter will be the guest speaker. Bench seating is available, but you can bring your own lawn chairs.
***Local Parma Memorial Day Service will be held by the Joseph J Jacubic American Legion Post 572 at the Veterans Memorial Park in Parma (Loya Parkway off State Rd.) on Monday May 30, 2022 beginning at 11:45am.
Tony Kessler
Executive committee member of "We Are Parma Proud"
Past Commander of American Legion Post 572
Read More on News
Volume 14, Issue 6, Posted 3:09 AM, 05.02.2022