FREE One Day Workshop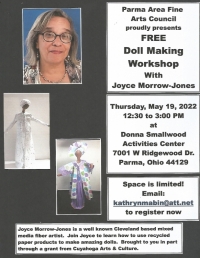 Doll Making with Joyce Morrow Jones, Thursday, May 19th, 12:30 to 3:00 PM at the Donna Smallwood Activities Center, 7001 W. Ridgewood Drive. This workshop is free, supplies included, and brought to you by Parma Area Fine Arts Council and in part through a grant from Cuyahoga Arts & Culture. Space is limited, so email kathrynmabin@att.net to register now.
Join Joyce to learn how to use recycled paper products to make amazing doll sculptures. Joyce is a well known Cleveland based mixed media fiber artist. Her passion is to reuse, recycle and recreate with materials normally headed for the landfill.
Joyce's art dolls are mixed media sculptures that have appeared locally and in neighboring states. This year alone she's exhibited in seven galleries. She was the 2021 artist in residence at moCA.
For information on this workshop and others check out Parma Fine Arts Council's revised web page, www.parmafinearts.org.
Kathryn Mabin
Board Secretary of Parma Area Fine Arts Council, Inc, or PAFAC, and Artist/Jewlery Designer, Owner Aire of Oppulence.
Read More on News
Volume 14, Issue 5, Posted 3:05 AM, 05.02.2022