Cleveland American Middle Eastern Association Honors Sean Brennan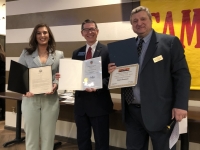 Parma City Council President and Ohio House candidate Sean Brennan, a teacher for almost three decades, has been named teacher of the year by the Cleveland American Middle Eastern Association (C.A.M.E.O.). Pierre Bejjani, President of C.A.M.E.O. recently presented Brennan with a certificate and medal, honoring him "In recognition of your outstanding achievements in teaching and dedicated service to our students."
"I have always tried to go above and beyond for my students, especially those who are new to our country," Brennan said. "As the son of a single mother, I know how difficult it is when life throws you curves. Coming to America from places like Lebanon, Ukraine, and other war-torn countries is quite a challenge, yet, with some extra help, these kids step up, overcome the hurdles, and achieve great things in the classroom and beyond," Brennan added.
Brennan was also recognized by Cuyahoga County Executive Armond Budish and State Senator Matt Dolan, whose senatorial citation states, "You have worked diligently to channel the curiosity of young people, thereby helping them gain a better understanding of the complex world around them. By presenting lessons in an interesting and comprehensive manner, you have consistently inspired your students to excel."
Brennan is an American Government and Law teacher at Brecksville-Broadview High School. He is also the Youth and Government club advisor and Social Studies Department Chair.
Amanda Boyd
Sean Brennan is President of the Parma City Council and current candidate for the district's House of Representatives.
BrennanforOhio.com
Read More on News
Volume 14, Issue 5, Posted 3:05 AM, 05.02.2022