11th Parma Run-Walk For Pierogies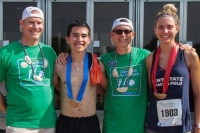 Lace up your running or walking shoes for the 11th Parma Run-Walk for Pierogies, sponsored by Perla Pierogies and UH Parma Medical Center, coming up on Saturday, June 25 at 7:30 am at Cuyahoga Community College's western campus. Those who know me know that running is my passion. So, eleven years ago I combined my love for running, pierogies, and giving back to the community by creating what has become one of our city's signature summer events.
Participants may either run or walk the 5k (3.1 miles) or walk the one-mile course. Pre-registration is only $25 ($15 for ages 11 and under) and may be completed online at runsignup.com/Race/OH/Parma/runwalkforpierogies. Day of event registration is $30. You can also e-mail us at pierogie5k@gmail.com or call me at (440) 885-8091 for a mail-in registration form or for sponsorship opportunities.
The Run-Walk takes place on the beautiful CCC-West campus, which makes for a very flat course. Those who place in the top three spots in several age groups win our signature pierogie necklace award. The first 600 participants who pre-register are guaranteed to receive our famous Parma Run-Walk for Pierogies t-shirt, so register early. When you have completed the event Parma's own Perla Pierogies will generously provide each participant with mouth-watering pierogies!
Proceeds raised by the Run-Walk will, once again, benefit many local charities and community projects. Find us on Facebook and Twitter @pierogie5k.

Sean Brennan
Parma City Council President Sean Brennan
Read More on News
Volume 14, Issue 5, Posted 3:06 AM, 05.02.2022