Seven Hills Financial Progress Continues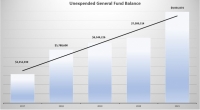 This time of year, we often take pause to give thanks. We as a community and me personally as Mayor of Seven Hills have so much to be thankful for. Over the summer we enjoyed a summer concert series, farmers market, an Oktoberfest and an extremely well attended Home Days. None of these would be possible without an a very dedicated staff, a long list of loyal resident volunteers and sponsors that help keep the cost of all these events at a minimum. We have witnessed the soft opening of a 20-acre nature preserve and the start of many park improvements. Most notable this year was the improvements to our ball fields, but this is just the tip of what is to come over the next 3 years. We have welcome backed our various senior groups to our renovated city hall community room and watched our community/recreation center fully rebound from last year's state mandated closure
Over the last 3 years, 23 roads have been resurfaced and 9 projects related to water management and sewers were completed. We have 8 more sewers projects planned and intend to commit 100% of our American Recovery Funds to road resurfacing in 2022. I give thanks to all the staff and volunteers that contributed to these projects and more. I give thanks to our residents who have repeatedly had faith in myself and our administration.
As a municipal manager my top priority is the safety of my residents but an extremely close 2nd, so to speak, is our city finances. When the finances are in order, they are catalyst for which everything else is possible. I'm pleased to report to that Seven Hills Finances continue to improve. Our General Fund Unexpended (Cash) Balance is $8.9 million (see the chart below)
We are projecting a year end surplus of around $1.5 million. I will ask council that this year's surplus be transferred into our capital fund for future use on roads, sewers and potentially upgrades to our service garage facility.
Many factors often contribute to great news that is represented in our recent September YTD financials. One factor is expense management. While the nation is currently experiencing 6% inflation, we have been able to hold our general fund expense growth to only 1.8% (adjusted for accounting entries) through sound fiscal management. A second factor has been our ability to increase revenue without raising taxes by adding new businesses such as Meijer. A third factor has been our ability to bring extra value to numerous projects through the of utilization partnerships (almost $3 million) in the last 2 years. Lastly, a key factor, one often looked by poor managers, is your team. Our administration has been successful in building a good working environment where morale is high and most take great pride in the service they provide. This type of work environment encourages performance and celebrates success. The ultimate winners are our residents, with better services, more events and a consistently improving infrastructure!
Tony Biasiotta
Mayor, City of Seven Hills. Ohio
Read More on
Volume 13, Issue 11, Posted 8:51 AM, 11.01.2021