Seven Hills Recreation Center Introduces New Programs And Mental Health Services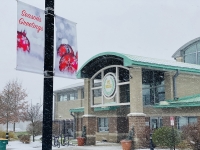 As we welcome in the New Year, we at the Seven Hills Recreation Center hope to bring in a happier and healthier year. We look forward to bringing the community back to our community recreation center. If your goals align with ours please see all that we have to offer.
The Seven Hills Recreation Center reopened in late May with protocols in place to help keep patrons and staff safe. Programs are still being offered on a daily basis with much smaller class sizes. Social distancing is in place by having machines in the fitness area rotated in and out of use each day and masks are required while moving throughout the building and at any time one is not being physically active. The maximum capacity has been reduced to maintain social distancing in the common areas.
We hope to get back to normal as quickly as possible, becoming a place not just to swim and work on physical fitness, but also a gathering place for those in the community to come together. In order to get a little bit of that normalcy back, we are offering a new program called "Friday Lunch-Bunch" each Friday at 12:15 PM. Stop in for a $5 lunch prepared in-house by Jo Ann Rencz. Social distancing will be in place, but safe socialization is encouraged!
Some newer programs are Beginner's Yoga and an All Levels Power Class on Monday evenings at 5:30 PM and 7 PM, respectively. Both classes take place in the Aerobics Studio with punch cards and drop-in rates available!
Your favorite classes are still being offered such as Jo Ann's morning Yoga classes, Tanya's morning Stress Relief Yoga, Pilates, and Trim and Tone classes, all of our SilverSneakers/Senior classes, Fit Happens with Debbie on Tuesday evenings, Zumba on Wednesday evenings, Learn-To-Swim, and several Water Aerobics classes as well. Schedules for all of our programs can be found on our website: www.sevenhillsohio.org
We recognize that 'healthy' does not just refer to the body, but to the mind as well. As such, the City of Seven Hills would like to introduce our new Mental Health Liaison Services to all community members at no cost. Jackie Corrigan, Clinical Mental Health CT, is able to provide a variety of services. Community members may request support directly or on behalf of an individual who may be struggling with identified or suspected mental health needs. Services are voluntary and do require consent in most cases. Services are available in-person or via live video conferencing and include individual sessions for purposes of screening, guidance, resources, intervention, support, crisis intervention, collaboration with outside professionals, coordination of services, linkage, and/or referrals. Ms. Corrigan is available at (440) 720-4541 or CorriganJackie21@gmail.com
We know that you have many recreation facilities to choose from, but we like to think that what sets us apart is our incredible, knowledgeable staff. Many first-time visitors become members, and many members become part of our family. We hope to see you whether to work out, for a rental, or at a city event.
Read More on Seven Hills
Volume 13, Issue 1, Posted 4:05 PM, 01.01.2021