Rumpke Starts Waste And Recycling Services Feb. 1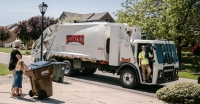 Rumpke Waste & Recycling will be the new waste and recycling service provider for the City of Parma beginning Feb. 1, 2021 and over the next five years. Under the new service agreement, Rumpke will provide weekly trash, recycling and bulk-waste collection for residents, including the use of Rumpke trash and recycling carts. The company is delivering around 60,000 new carts starting Jan. 4, 2021. Residents should not use the new carts, however, until Feb. 1. Rumpke is mailing instructional information to residents prior to its service beginning. "The current garbage provider, Republic Services, will be collecting rubbish throughout January," said Service Department Director Brian Higgins. "In order to make this transition as seamless as possible, we are asking residents to use only the Republic Services carts in January. Although they will already have their Rumpke carts, they should not begin to use those carts until February."
Mayor Tim DeGeeter said he is confident residents will be pleased with the new service. "With this new contract, residents are not required to separate yard waste and will have weekly bulk pickup — a convenience they have wanted, and we are happy to now deliver." Regarding bulk waste, Rumpke will collect items such as appliances, sofas, chairs, mattresses, box springs and other large items. Upholstered furniture and mattresses must be wrapped in sealable plastic. "We are looking forward to serving Parma residents," said Paul Marker, Rumpke regional vice president. "We will continue to work collaboratively with the city to ensure the best service for the whole community."
One of the nation's largest privately owned residential and commercial waste and recycling firms, Rumpke serves neighborhoods throughout Ohio, Kentucky, Indiana and West Virginia. The family-owned business has been around since 1932. The company has 11 recycling facilities, including major material recovery facilities in Cincinnati and Columbus, as well as a glass processing facility in Dayton, Ohio.
Recycle Right
Place your recycling items loose in your Rumpke recycling cart.
Do not bag recyclables.
Rumpke's acceptable recycling items include:
• Plastic bottles, jugs, tubs, fruit and yogurt cups (empty and then reattach lids)
• Cartons with caps and straws removed (no egg or ice cream cartons permitted)
• Any color of glass bottles and jars (reattach lids or caps)
• Metal cans (non-hazardous and nonflammable)
• Paperboard (cereal boxes, 12-pack containers, etc.)
• Cardboard (flattened and should fit inside the cart)
• A variety of paper products:
Office papers
Newspapers
Magazines
Junk mail
Envelopes
Telephone books
Paper grocery bags

Rumpke keeps a list of recyclables on its website: www.rumpke.com.
(Info. Box)
Reaching Rumpke
1-800-828-8171
centralohio.market@rumpke.com
www.rumpke.com
Service begins Feb. 1, 2021.
Carolyn Kovach
Carolyn J. Kovach
Director of Communications, City of Parma, Mayor's Office
Read More on News
Volume 13, Issue 1, Posted 4:05 PM, 01.01.2021