All Saints Celebrates Pantry's Fifth Anniversary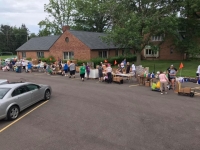 All Saints Episcopal Church on W. Ridgewood Drive in Parma will be celebrating the fifth anniversary of its Pantry at All Saints series of monthly events on September 21, 2019. Every month 40-50 volunteers gather together at the parish campus to operate a soup kitchen and distribute food and clothing to struggling families in Parma and nearby communities. To date, this group of dedicated people has provided food for more than 300,000 meals.
In 2017, Rise in Love, another local agency, started attending All Saints' events, adding thousands of pounds of non-perishable and frozen foods, as well as household supplies, to the fresh fruits and vegetables distributed by the church.
In the long term, the Pantry at All Saints continues is developing employment and education programs to help low-income families become more self-reliant. Partners Rise in Love and Aspire Greater Cleveland are integral players in these efforts.
After the September event, volunteers will gather for a photograph at the Parma script sign in Anthony Zielinski Park.

Jeffrey Fowler
Jeffrey Fowler is the Hunger Program Coordinator at All Saints Episcopal Church.
Read More on News
Volume 11, Issue 9, Posted 2:14 PM, 09.02.2019