State Championship Padua 2017 Volleyball Team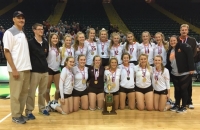 For the 2nd year in a row, Padua has been victorious as the States Volleyball Champion. Congratulations to the team, coaches, and supporting parents, relatives, and friends. This was a great finish for a great group of athletes.
Bob Stilwell
Retired Manufacturing Supervisor since 2008. I'm a member of the American Legion Post 703 In Parma,Ohio. Active Member of the Parma Heights Historical Society. I write Memorials for an internet group called "Find A Grave"
Read More on
Volume 9, Issue 12, Posted 10:15 AM, 12.01.2017