GM Foundation Awards Community Grants At Parma To Aid Northeast Ohio Region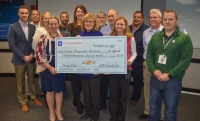 The GM Foundation and Parma's Metal Center have announced $35,000 in grants to Greater Cleveland nonprofit organizations through its Community Grants program. "Through the GM Foundation, these important community organizations are able to drive programs that continue to improve the quality of life in our communities," said Lamar Rucker, Parma's plant manager. "We are proud to be a part of a company and community that both work hard to support education, enhance community revitalization and help those in need."
Funded by the GM Foundation, the GM Community Grants will support the following Northeast Ohio organizations and community programs:
United Way of Greater Cleveland ($10,000) - Aspires to create and support healthy communities where all kids succeed in school and families and individuals are financially stable. To do this, they engage community members to volunteer their time, talent and voices to support its work. More than 150 Community Impact volunteers oversee the annual investments in programs designed to address some of our community's most difficult problems, and Campaign Cabinet volunteers work to mobilize some 1,400 workplace campaigns. More than 2,000 volunteers participate in hands-on projects through Days of Caring programs. The result is 450,000 Greater Cleveland residents benefit from United Way every year.
American Cancer Society Making Strides Again Breast Cancer, Northeast Ohio Region ($5,000) – The American Cancer Society is the nationwide community-based voluntary health organization dedicated to eliminating cancer as a major health problem by preventing cancer, saving lives, and diminishing suffering from cancer through research, education, advocacy and service. The Northeast Ohio Region partners with Parma in major initiatives like Making Strides Against Breast Cancer where GM Parma and UAW 1005 are the leading supporters in the Cleveland area.
Big Creek Connects ($10,000) – Is committed to conserve, enhance, and bring recognition to the natural and historic resources of the Big Creek Watershed and develop a recreational trail network that connects these resources to each other and the community. Big Creek is Parma's primary partner in the promotion and implementation of the GM Green Watershed Education and Conservation program.
Safe Kids Rainbow Safety Squad ($10,000) - Operates in conjunction with the prestigious Rainbow Babies and Children's Hospital of Cleveland. They help kids and their families live safer lives. High energy educational activities on health and safety topics include:
Motor vehicle safety
Bicycle safety
Fire safety
Water safety
Physical activity
Healthy habits
Character building
This year, the GM Community Grants program will provide over $2 million in funding to hundreds of organizations in 47 communities where GM employees live and work.
Thomas Mock
GM Parma communications manager
Read More on
Volume 9, Issue 12, Posted 10:15 AM, 12.01.2017