Mayor Day's Plan Could Save Parma Theater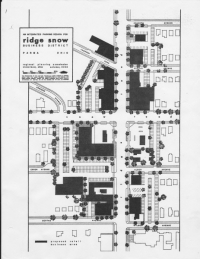 A solution to the Parma Theater situation may possibly be found in a 1962 Regional Planning Commission plan completed by the administration of former Parma Mayor James W. Day. Similar conclusions can also be drawn from the 2008 Parma Sustainable Design Asset Team (SDAT) guidelines completed by the administration of former Mayor Dean Depiero. Most discussions on the Parma Theater primarily focus on activities that could be conducted inside the building; however, redevelopment of this building may be much more financially viable by looking at the two block stretch of Ridge Road from Snow Road to Bertha Avenue as well as one block of Snow Road west of Ridge.
Not all of Mayor Day's planning came to fruition, but after 51 years a small part of the 1962 plan could spur significant redevelopment around the Parma Theater. The plan clearly shows taking Essen Avenue and converting it to a cul-de-sac at the west end of the Theater Property. The business portion of Essen was proposed as additional parking. The 1962 plan shows a major addition to the Theater as well as a large building to be constructed on the south side of Essen. Creating this cul-de-sac today is still a very viable concept; however the focus now would be to create an outdoor courtyard on the business section of Essen, which would promote additional outdoor activities involving the Theater and the buildings on the south side of Essen. The East Fourth Street concept downtown would be emulated in a small way. Three parking ingress-egress will still be possible: from the Snow Road entrance, the Bertha Ave. entrance, and from Ridge Road into the Theater lot or the property south of Essen.
The Parma-Ridge Library branch is also key to this development. Unfortunately, the Cuyahoga County Library Board of Directors decided they no longer wanted to be part of this neighborhood and this branch will be vacated in about six months. At that time, the City of Parma assumes control of the building. Parma Theater redevelopment would have greater likelihood if Parma would also market the library building to potential investors and developers.
An events grounds surrounding both properties would greatly improve the area by creating additional activities surrounding the Parma Theater. Outdoor events, similar to the Polish Constitution Day parade and after party, would be created and have room to expand. Additional outdoor family events could be conducted through the Old World Parma organization and enhance the ability of the Theater to expand its mission.
Providing multiple financial incentives would better attract investors and developers to this multi-million dollar investment. Incentives for the Parma Theater alone primarily consist of historic tax credits and the possibility of a legacy project for an individual. Still, a renovated theater alone would have difficulty balancing its books for the foreseeable future. However, including the library would also provide potential investors with a third incentive to step in by including a for-profit building to develop.
To make this development even more attractive, the City should use the funds from the library property sale to make infrastructure improvements in the two-block area. Essen Ave. is city property, and the library sale would provide funds to cul-de-sac the street and make other infrastructure improvements in Polish Village. It should be pointed out funds from the City's general budget would not be used, and any library building sale funds also should not disappear into the general budget, but the sales funds should directly benefit the neighborhood that is losing a library. In this way a capital investment is converted into a new capital improvement in the same neighborhood.
Another potential funding source is the new storm water fees. The library and theater comprise about 2.25 acres of nearly 100% impermeable surface. All of the rainwater goes directly into the storm sewers. Redesign of the storm water system on these two properties could be accomplished in an aesthetically pleasing manner while serving as an educational example for all built up, paved over, inner-ring suburbia.
Now, let's turn to a short history lesson. First, how does former Mayor Day enter the picture? How many residents actually remember his time as mayor? After serving several years as a Parma Councilman, James W. Day was Mayor from 1962 to 1967. As quoted from a Cleveland.com article by Grant Segall on August 26, 2010 following his passing, we can learn the following about Mayor Day:
"The man had vision," Council President Chuck Germana said.
Day pushed for one of the first municipal master plans in Cuyahoga County and wielded it like a Bible. "For someone to think 40 years ahead was amazing," said Germana.
Mayor Dean DePiero recalled that Day "never stopped expanding, improving and building the state's seventh largest city into what we see today."
In 1967, Bob Seltzer of the Cleveland Press called Day "an aggressive, incisive hustler."
Day became a councilman in 1954 and chaired the planning and zoning committee. He pushed for Parmatown, other retail sites and the hospital. He promoted comprehensive zoning and wider minimum residential lots. He also won a master plan from the Regional Planning Commission.
"You wouldn't think of building a house without a plan," he later told The Plain Dealer. "How can you build a community without one?"
Now consider three historical timelines. First, a line can be drawn from the 1962 Essen Ave. plan through the 2008 SDAT guidelines and on into the future. Second, fundraising, planning, zoning reviews, and engineering plans and construction realistically make a theater renovation a likely three year project. Third, in 1816, Benaiah Fay and his family settled near Ridge and Theota. Interestingly, all three timelines seem to intersect in 2016 in the general vicinity of the Parma Theater on the 200th anniversary of the first Parma settlers.
However, projects like this require input from many sources and give-and-take from all interested and affected parties. This is a unique point in time where two connected larger properties are ripe for development concurrently. Ponder what is best for long term development in the neighborhood. Another fast food store? Another cookie cutter drugstore or oil change business? Or a development that promotes local community activity and events. The time to act is now.
Mayor James W. Day's vision for the City of Parma may still not be complete. Maybe it is time to implement some of his administration's unfinished business.
William Subjoc
Parma resident since 1988. Old World Parma/Polish Village Volunteer. Friends of Parma Theater Volunteer.
Read More on News
Volume 5, Issue 6, Posted 10:16 AM, 06.03.2013