Seven Hills, Parma Should Join Regional Trend Away From Lethal Deer "Controls"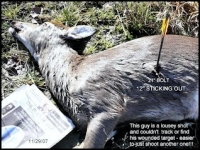 Animal activists and the majority often feel powerless to stop hunting in their neighborhoods. But Northeast Ohioans are seeing victories in places like adjacent Broadview Heights and North Royalton, where, respectively, bow hunting ordinances have been repealed and prevented. Community leaders are catching on to the word we've been spreading: all lethal methods paradoxically ensure stable populations; they don't reduce numbers.
With higher speed roads and probably more deer-human conflicts than, say, Seven Hills, North Royalton leaders tabled lethal discussions and instead plan to introduce a driver safety and community awareness program in May. It's fashioned after the one in Rochester Hills, Michigan, where, despite a 30 percent increase in deer numbers, DVCs (deer-vehicle crashes) decreased by 25 percent. Nine hundred police reports involving deer-car crashes spanning five years in N. Royalton revealed only 60 to 70 percent involved vehicles, many of which were caused by drunk or speeding drivers. None of the reports showed injuries, and accidents decreased after 2009, due to leveling off populations. Also, Broadview Heights repealed its bow hunting ordinance, modeled after that of Ottawa Hills, Ohio, in 2010.
Oddly, in spite of this area's movement away from lethal deer "management," certain Seven Hills council members have opened discussions to pass bow hunting and/or nuisance permit ordinances, despite evidence these do nothing to control populations. Even the Ohio Division of Wildlife's urban deer representative Geoffrey Westerfield admitted at the February 19th meeting that the DOW has no data to support that lethal methods like bow hunting and nuisance permits reduce numbers, but actually create rebound. Westerfield cited Solon's failure to decrease numbers through lethal methods, after spending $800,000 to kill 1,600 deer over a five year period. According to Katherine McGill, wildlife researcher and writer, "The goal is to allow the sport of killing to take place while at the same time, conserve enough deer for hunters to enjoy the following season . . .[state wildlife] managers are compelled to satisfy their hunting constituency . . . If there aren't enough deer, the wildlife managers may end up without jobs."
Seven Hills council cohorts Caryl Lecznar and Pete Draganic claim a "few" residents complained about deer landscape damage, waste "pellets," and the occasional deer-in-the-garage as justification to kill. Yet, planting native, deer-resistant perennials saves landscaping, and deer "pellets" actually fertilize. The real culprits: nonnative plantings and invasive species combined with nonnative earthworm soil compaction; these are pushing out native plants and stunting critical understory in woodlands. Strict city ordinances for unnaturally manicured "appeal" and deleterious pesticides have wrought at least as much harm.
Incidentally, black-footed mice and certain protected birds, not deer, primarily carry Lyme Disease.
BEWARE: Every community that has allowed bow hunting or nuisance permits has seen: deer with arrows stuck in them dying slowly in neighborhoods/yards; reluctant and hostile police and prosecutors refusing to respond to calls about illegal trespassers and violations of dozens of hunting, safety and right to peaceful enjoyment ordinances; injured deer running into traffic; accidentally shot pets, humans and other wildlife; neighbors pitted against neighbors; council members with ties to hunters; and decreased competition for food among deer because hunting has the ironic twist of ENSURING stable populations through increased fertility of survivors.
DEMAND TRANSPARENCY: There were no minutes posted on Seven Hills' website from August 2012 to January 2013, including discussions by Mayor Dell'Aquila about inviting nine other area mayors to a private meeting last fall to discuss the "deer issue," which resulted in a no-show. And now, podcasts from last fall's town hall meeting in which residents allegedly complained about deer property damage may have disappeared, then reappeared, minus the discussion about deer on the site. An open public records request -- protected by Ohio's Sunshine Law – has also gone unanswered.
What's happening in Seven Hills is now happening in Parma, but more ghastly. John Mack, chief of natural resources at Cleveland Metroparks, publicly stated that if the City of Parma engages in hunting, then he will order killing in the brand new West Creek park using captive bolt – a highly inaccurate skull piercing that repeatedly misses and hits wild, thrashing deer in the eyes and other parts until finally impaling the intended brain area. Ghoulish! Deer have emotionally complex lives; they are sentient beings.
Parma safety director Baeppler and councilman Napoli should be held accountable for their part in bringing up lethal discussions. Baeppler told me he thinks deer are "long-legged rats."
Contact Seven Hills' council, particularly swing votes like Mike Barth, Jim Tripi, and Snitzky with a short, polite message asking them to vote "no" or, better, drop discussions involving all lethal plans. Councils-at-large Matt Trafis and David Bentkowski publicly voiced opposition to killing deer. Email council members: mcbarth@cox.net, pete@petedraganic.com, jtripigbp_sbcglobal.net, caryllecznar@yahoo.com, bent959@aol.com snitzky@sevenhillsohio.org, matt@trafis.com, mayor7hills@yahoo.com. Call City Hall at 216-524-4421.
Your help is needed right now.
It truly is up to you, Parma and Seven Hills.
lucy mckernan
Animals first.
Read More on News
Volume 5, Issue 3, Posted 6:14 AM, 03.02.2013